North City Park - Celebrate Earth Day in …04/22/2023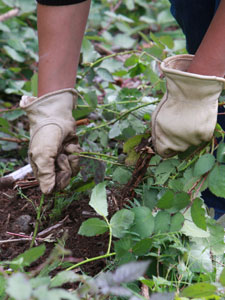 Activities
Every April 22nd, stakeholders of all backgrounds come together to advance
sustainability and climate action in commemoration of Earth Day.
Supporting a healthy canopy in Shoreline Parks is a great investment of volunteer time and energy. In North City Park we are celebrating our second year of volunteer restoration activity by marking yet another new area for first- time removal of Himalayan blackberry, small laurel and holly as well as ivy. During our day together we will also be laying mulch in recent planting areas.
Come join this neighborhood effort to restore our Family Friendly Forest in North City!
Open to the public
All ages OK
13 out of 15 participants registered.
What to Bring
Dress for the weather and bring your own gloves. Bring water and snacks if you'd like. Please be aware that there are no restrooms site and the nearest are a 5 min drive. We have tools to share but if you have a favorite pair of clippers, loppers or trowel, feel free to bring them.
Where to Meet
Meet the at the information tent at the main entrance path into the park.
Where to Park
Park along the fence line of the park on 10th Ave. Please do not park on the residential side of the street along 10th Ave NE