North City Park - Forest Restoration At North …03/26/2023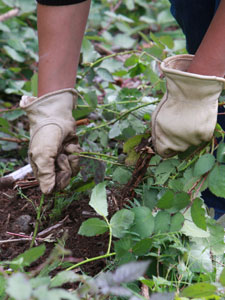 Activities
Help care for our 6 active restoration sites in the park with 676 new plants installed since the fall of 2021. Your volunteer efforts are paying off! These sites now need to be weeded and mulched, helping to manage invasive plant regrowth as our new plants grow. We have also marked some new areas for first- time removal of Himalayan blackberry, small laurel and holly as well as ivy. Come join this neighborhood effort to restore our Family Friendly Forest in North City!
Open to the public
All ages OK
8 out of 10 participants registered.
What to Bring
Dress for the weather and bring your own gloves. Bring water and snacks if you'd like. Please be aware that there are no restrooms site and the nearest are a 5 min drive. We have tools to share but if you have a favorite pair of clippers, loppers or trowel, feel free to bring them.
Where to Meet
Meet the at the information kiosk at the bottom of the main entrance path into the park.
Where to Park
Park along the fence line of the park on 10th Ave. Please do not park on the residential side of the street along 10th Ave NE
Date & Time
March 26, 2023 2pm - 4pm
Contact
Judy MacCully
friendsofnorthcitypark@gmail.com
None
Extra Info
View
Site Map
Vaccination Policy
In accordance with the
City of Shoreline's vaccination policy
, the Green Shoreline Partnership will require all volunteers to be vaccinated against COVID-19. Effective December 1, volunteers ages 12 and up will be expected to show proof of vaccination with photo ID and sign an attestation confirming that they are fully vaccinated. Parents/guardians of participants between 12 and 18 years of age will be required to sign a youth waiver/COVID-19 vaccination attestation form. If you think you need a religious or medical exemption, please email greenshoreline@forterra.org.