Twin Ponds Park - Twin Ponds North Invasives …10/08/2022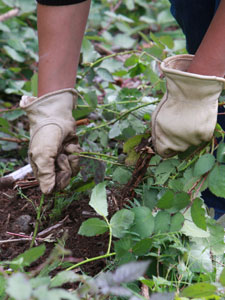 Activities
Join the team at North Twin Ponds to learn more about native and introduced plants! We'll be removing introduced weeds to help the native plants thrive and improve the health of this forest.
Open to the public
All ages OK
4 out of 15 volunteers registered.
What to Bring
Be prepared to work rain or shine! Dress in layers and wear clothing that you don't mind getting dirty or snagged on plants. Closed-toed shoes, long sleeves, and pants are recommended. Please bring a [reusable] water bottle and a snack. We will be providing tools as well as gloves. If you have your own work gloves, feel free to bring them.
If you are showing any symptoms of Covid-19 (coughing, sneezing, fever, etc.), please stay home.
Don't forget the Youth Waiver Form signed by parents if you are under 18 and not accompanied by a parent.
Where to Meet
NW corner of park off 155th Street (see map)
Meeting Location Map
Where to Park
NE corner parking lot
Date & Time
October 8, 2022 9:30am - 12:30pm
Contact
Bill Turner
willturner206@gmail.com
Bill Turner: 206-859 9150
Extra Info
View
Site Map
Vaccination Policy
In accordance with the
City of Shoreline's vaccination policy
, the Green Shoreline Partnership will require all volunteers to be vaccinated against COVID-19. Effective December 1, volunteers ages 12 and up will be expected to show proof of vaccination with photo ID and sign an attestation confirming that they are fully vaccinated. Parents/guardians of participants between 12 and 18 years of age will be required to sign a youth waiver/COVID-19 vaccination attestation form. If you think you need a religious or medical exemption, please email greenshoreline@forterra.org.