Shoreline Park - Shoreline Park Work Party09/04/2022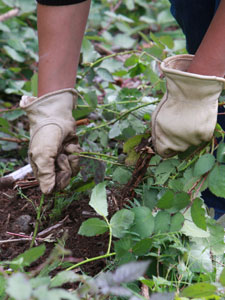 Activities
Please join us in keeping the small forest of Shoreline Park beautiful!

We're dreaming of a park free of invasive plants and filled with native plants. Work areas are manageable, and we think we can really make a difference in just a few years. On this day, we'll be cutting and digging out Himalayan blackberry and working to preserve the trailing blackberry, salal, ferns, bleeding heart, and other native plants already thriving. If we love this park, it will love us right back!
Open to the public
All ages OK
5 out of 20 volunteers registered.
What to Bring
Water to drink. We'll have tools (loppers and shovels) and gloves available for use, but feel free to bring your own. Closed-toed shoes are a must, and we strongly encourage you to wear long sleeves and pants to help for protection from thorny weeds. The work area is mostly shady.
Where to Meet
We'll be at the north end of the park, just north of the paved trail. You'll see a big compost pile across from the work area.
Where to Park
There is parking west of the park, along 1st Ave NE.
Date & Time
September 4, 2022 10am - 12pm
Contact
Sara Cammeresi
sara@cammeresi.com
None
Extra Info
View
Site Map
Vaccination Policy
In accordance with the
City of Shoreline's vaccination policy
, the Green Shoreline Partnership will require all volunteers to be vaccinated against COVID-19. Effective December 1, volunteers ages 12 and up will be expected to show proof of vaccination with photo ID and sign an attestation confirming that they are fully vaccinated. Parents/guardians of participants between 12 and 18 years of age will be required to sign a youth waiver/COVID-19 vaccination attestation form. If you think you need a religious or medical exemption, please email greenshoreline@forterra.org.