Twin Ponds Park - Join Us--Weekly Sunday Work …08/14/2022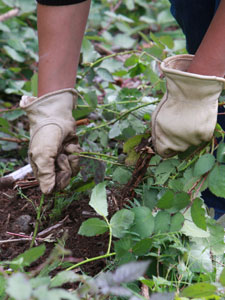 Activities
Join Jim, Gary and Yoshiko on Sunday mornings at Twin Ponds Park! We see different wildlife with the changing seasons and that inspires us to nurture the natural areas of Twin Ponds Park. This summer, we will focus on preparing the area near Meridian Creek for planting in late fall. We pull out invasives, love OM, and install native plants for the birds and beasts to enjoy.

Please note this is restricted to adults. Please do not bring anyone under 18. Thank you.
Open to the public
Adults only
0 out of 6 volunteers registered.
What to Bring
BYOG--Bring Your Own Gloves and a favorite hand tool. FYI, we do not provide drinking water so if you feel you will become dehydrated in 3 hours, please bring your own bottle of water. When it is hot, we will work in shaded areas and limit strenuous activity.
Where to Meet
Look for us near the wood chip pile! (South of main trail entrance.)
Meeting Location Map
Where to Park
Along Meridian, across the street from Evergreen School.
Date & Time
August 14, 2022 9am - 12pm
Contact
Yoshiko Saheki
bczbczbcz@msn.com
twinpondsstewards@gmail.com; jcshoreline@comcast.net
Extra Info
View
Site Map
Vaccination Policy
In accordance with the
City of Shoreline's vaccination policy
, the Green Shoreline Partnership will require all volunteers to be vaccinated against COVID-19. Effective December 1, volunteers ages 12 and up will be expected to show proof of vaccination with photo ID and sign an attestation confirming that they are fully vaccinated. Parents/guardians of participants between 12 and 18 years of age will be required to sign a youth waiver/COVID-19 vaccination attestation form. If you think you need a religious or medical exemption, please email greenshoreline@forterra.org.