Hamlin Park - Hamlin Park Ecological Restoration …05/21/2022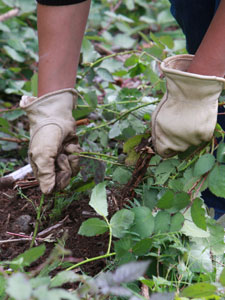 Activities
Join us on Saturday morning, May 21st from 10am - 1pm to help restore the Northern area of our beautiful Hamlin park! This is a great opportunity to get outside, meet some neighbors, and give back to this wonderful forested park. At this event we will be removing invasive species and mulching.
Students can earn community service hours and enjoy the outdoors!
Open to the public
All ages OK
10 out of 20 volunteers registered.
What to Bring
Please wear closed toe shoes, long pants and long sleeve shirt as the Himalayan blackberry vines are thorny. Dress for the weather and bring a water bottle! You may want to bring your own work gloves. Tools will be provided but feel free to bring your own if you wish.
Where to Meet
The Northern portion of Hamlin Park, the Northern portion near NE 168th Street, between 16th and 18th Ave.
See attached map.
Where to Park
Gravel pull-out at the end of NE 166th Street. Walk down the steps to the work site.
Date & Time
May 21, 2022 10am - 1pm
Contact
Ani Gothard-Williams
anigothard@yahoo.com
Please contact Ani Gothard-Williams at anigothard@yahoo.com or 206-334-8775 for additional information.
Extra Info
View
Site Map
Vaccination Policy
In accordance with the
City of Shoreline's vaccination policy
, the Green Shoreline Partnership will require all volunteers to be vaccinated against COVID-19. Effective December 1, volunteers ages 12 and up will be expected to show proof of vaccination with photo ID and sign an attestation confirming that they are fully vaccinated. Parents/guardians of participants between 12 and 18 years of age will be required to sign a youth waiver/COVID-19 vaccination attestation form. If you think you need a religious or medical exemption, please email greenshoreline@forterra.org.