Bruggers Bog - Orca Recovery Day Work …10/16/2021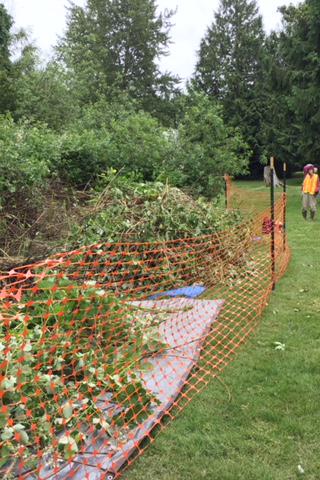 Activities
Join the Brugger's Bog Park Native Plant Stewards and Shoreline Green Partnership to celebrate Orca Recovery Day as we continue to restore this important wetland habitat with native shrubs, trees and meadow. This City of Shoreline Park is located in the Lyons Creek Watershed which includes creeks that enter Lake Washington with this fresh water continuing to Puget Sound. You'll be helping to improve this shrub and forested area by mulching and adding the start of this year's plants which will continue into the late Fall.
Open to the public
All ages OK
15 out of 20 volunteers registered.
What to Bring
Where clothing and sturdy shoes you don't mind getting dirty and maybe a bit wet if we've had rain. This is a RAIN or SHINE event! Which is reason to celebrate since RAIN helps our watersheds! Long pants and long sleeves will protect you if we work in blackberry areas. Bring a hat if sunny and we'll proved everything else! Tools, gloves and drinking water will be provided but you may bring your own water bottle.
Where to Meet
Meet at the Park entrance down the short gravel access road to the bridge over our stream. Look for Work Party sign to find the Stewards and our canopy just past the bridge. Stewards will wear orange vests and name tags. No need to have previous experience!
Where to Park
Plenty of parking off 25th Ave NE at entrance to park. Please carpool if possible. Metro Bus route 331 stops at Ballinger Way which is also an easy walk down a safe trail to the meadow to find Stewards.