Twin Ponds Park - Green Shoreline Day at …11/13/2021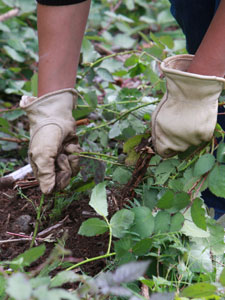 Activities
Come plant trees with us on Green Shoreline Day! Volunteers looking to make a real impact on the environment could help restore the natural habitat in an area degraded by peat mines during the last century. Replanting the trees, shrubs, and ground cover will provide habitat for our native insects, birds, fish, ducks and other animals. As this habitat is evolving it is becoming an area treasured by local residents who seek out this park for relaxation and the chance to be in nature. A branch of Thornton Creek runs through the site where wetlands have been restored. Neighbors sometimes stop to thank our volunteers for their efforts.
Open to the public
All ages OK
30 out of 15 volunteers registered.
What to Bring
Appropriate work clothing includes long sleeve shirts, long sleeve pants, sturdy shoes, work gloves and rain hats and jackets. Shorts and sandals are strongly discouraged even in hot weather. Bring along water and snacks. Tools will be provided. Please bring children age 8 and over.
Where to Meet
READ CAREFULLY. We meet in the park parking lot on First Av near 149th St. Note: NOT the parking lot at 155th St. Look for the lot near the community garden across from Aegis Living.
Meeting Location Map
Where to Park
Parking available in the parking lot on First Ave near 149th St.
Date & Time
November 13, 2021 9am - 12pm
Contact
Sarah Fulton
Fultonsarah45@gmail.com
Zoe Nelson
znelson@forterra.org
Extra Info
View
Site Map
Vaccination Policy
In accordance with the
City of Shoreline's vaccination policy
, the Green Shoreline Partnership will require all volunteers to be vaccinated against COVID-19. Effective December 1, volunteers ages 12 and up will be expected to show proof of vaccination with photo ID and sign an attestation confirming that they are fully vaccinated. Parents/guardians of participants between 12 and 18 years of age will be required to sign a youth waiver/COVID-19 vaccination attestation form. If you think you need a religious or medical exemption, please email greenshoreline@forterra.org.