Shoreline Park - Blackberry Removal08/07/2022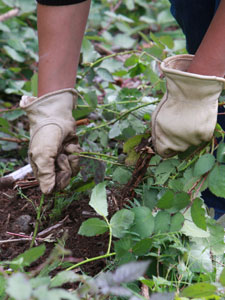 Activities
Children and adults welcome. We'll be cutting back Himalayan blackberry and digging out root balls. Those who don't want to get poked can help out by pulling herb robert or ivy or spreading mulch.
Open to the public
All ages OK
3 out of 20 volunteers registered.
What to Bring
Gloves, hand-clippers, loppers. A water bottle, a snack if you want one, and tough clothes and shoes that can get dirty (because they will!), including long pants and a long-sleeved shirt to protect against prickly blackberry. Closed-toed shoes are required: work boots or hiking boots are best as we work on sloping ground. Running shoes are also fine, but we'll be working in a wetland area so they will get wet. Remember to check the weather and bring appropriate layers and rain gear or sun protection as needed.
Where to Meet
north edge of the park, by the composting raft
Meeting Location Map
Where to Park
Street parking along 1st Ave NE
Date & Time
August 7, 2022 10am - 12pm
Contact
Sara Cammeresi
sara@cammeresi.com
None
Extra Info
View
Site Map
Vaccination Policy
In accordance with the
City of Shoreline's vaccination policy
, the Green Shoreline Partnership will require all volunteers to be vaccinated against COVID-19. Effective December 1, volunteers ages 12 and up will be expected to show proof of vaccination with photo ID and sign an attestation confirming that they are fully vaccinated. Parents/guardians of participants between 12 and 18 years of age will be required to sign a youth waiver/COVID-19 vaccination attestation form. If you think you need a religious or medical exemption, please email greenshoreline@forterra.org.